Pinos La Forchetta Pizzeria
181 7th Ave, Brooklyn, NY 11215
Order now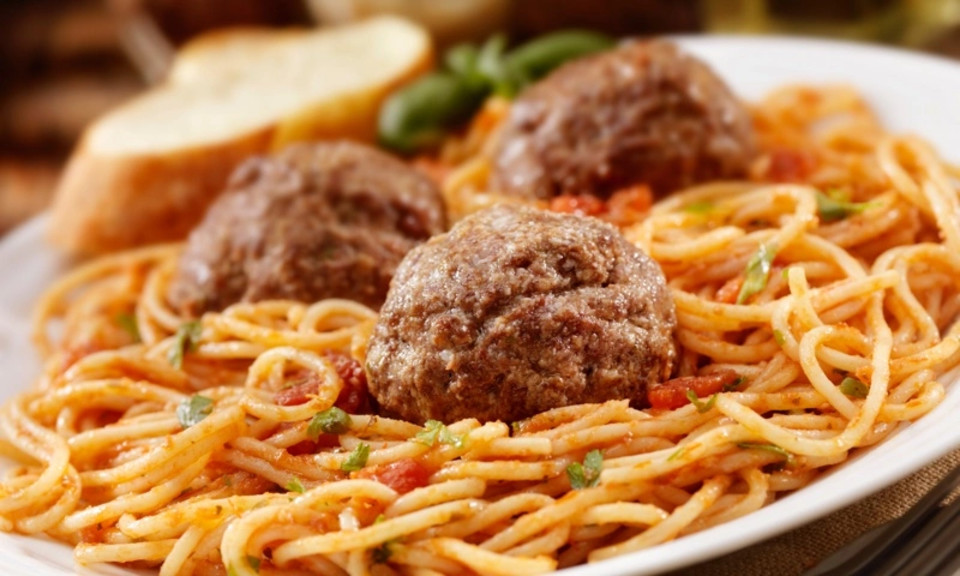 Keila
I had a great experience we ordered 2 Penne Ala Volcano, one with cheese and the other had chicken, spinach,and cheese. Honestly, it wad the best i ever tasted. The sauce was awesome you can taste the different spices. There Italian Garlic Bread with Cheese was awesome; it was tender n tastie. There chicken salad was good. One order is so much food 2 people can eat a good portion and be full. We waited about an hour for food I don't remember if they got here in the right amount of time. But,there food was well worth the wait. I would definately go to this restaurant to eat add well as order again and again. I would recommend and have recommended this restaurant to everyone i know. I'm extremely picky when it comes to food so w when i found a place that provides great service and great food I stick with them. I give them a 100%...Kandi Goodies
Ben
You know how sometimes you get a batch of tough onion rings that take a lot of gnawing and the batter comes off in chunks, leaving you a string of onion dangling from your fingers? PLFP's onion rings are the good twin to the stringy ring's evil twin: tender on the inside, crispy on the outside, not too salty, not soggy, and they didn't fall apart even under the onslaught of dragging them through ketchup. Glorious! As for the curly fries, only a few in each helping were actually curly (but since it was almost midnight when I ordered I figure it was the end of the batch and we got a lot of parenthetical stragglers); curls aside, they were perfectly seasoned and tasty. Also the delivery guy was really polite, and actually came up to the door and buzzed rather than just calling from the street and making me haul ass outside in my pyjamas.
anne
As Durga and others posted, THEIR PIZZAS ARE HUGE. We literally could not eat all of this pizza between 4 of us. I ordered an all-veggie pizza. TONS of veggies, lots of cheese, amazing. You'd think they were making it for a family member, cause this wasn't your usual pizza. Holy Cow!! Delicious food and delivered hot. Pizza crust was still crispy also and the salad was terrific. Very good place to order from.
Elizabeth
Best FLUFFIEST garlic knots around (get a cup of marinara with them from the sides section, the extra buck is absolutely worth it). "Fresh mozzarella pizza" is def our standard go-to; better than any margherita in the area. We like most everything from here in general, and delivery is always on point.
Ursula
I'm honestly shocked to see some of the negative reviews on here. The food is consistently AMAZING, and the service is excellent. My only complaint would be that seafood isn't available as a pizza topping, but alas, I live in the United States so I can deal with it & give this place an A+ regardless.
Jonathan
Best classic pizza spot in the neighborhood -- these aren't fancy coal-fired pizzas, just *reall*y well executed classic NYC pies. I love the baby pizza, but they raised the price on it by a lot, so it's kind of crazy to order anything but the full-sized pie now. Which is very not ideal when you are just ordering for one, because it's a BIG pie. But, you know, leftovers. Buy a pie and you're set for food for a few days as long as you aren't worried too much about eating healthy! (But seriously, if there is an actual Pino out there reading this, maybe consider dropping the price of the baby pie by a scosh?)
Carolyn
I order from pino's all the time for their Gluten free pizza. It's great, they are the only place in the area that delivers gluten free pizza so it's not like I can compare it to anyone else but I'm very grateful. The gluten free pie can be a bit underdone in the middle so I usually pop it in the oven for a bit to crisp it up. My boyfriend gets their regular pizza and he says it's great. The delivery guys are super sweet and it usually comes when they say it will.
pat
As one would expect from Pinos -- after all these years, the best. I moved into the neighborhood 25 years ago and all my friends chose to admire was my proximity to Pinos. Nothing has changed. The crust has just the right combination of crunch and chew, the sauces are tangy and flavorful, the balance of cheese is perfectly judged. The endless permutations of flavors never fail. Pinos is the bedrock of this neighborhood, and if it disappeared, I'd be outta here too!
Jessica
Pino's has become a staple for us! They arrive promptly and the pizza is consistently delicious. They are also good, honest people- we had mishap thru online ordering, and they called us right away to inform us of the difference in price (which they could have ignored as it was in their favor). Highly recommended!!!
DeWayne
Been buying pizza from Pino's for years! My friends come over and always ask to order from here. Just got into the Caesar salads with grilled chicken! Amazing. And don't sleep on their onion rings! I almost did and now I have to control myself to not order them every night! Fast delivery too! A total winner here!
About us
Dinner, Italian, Pasta, Pizza, Salads, Sandwiches
Today

Delivery: 11:00 AM - 11:00 PM

Takeout: 11:00 AM - 11:00 PM

Delivery

Monday:

11:00 AM - 11:00 PM

Tuesday:

11:00 AM - 11:00 PM

Wednesday:

11:00 AM - 11:00 PM

Thursday:

11:00 AM - 11:00 PM

Friday:

11:00 AM - 12:30 AM

Saturday:

11:00 AM - 12:30 AM

Sunday:

11:00 AM - 11:00 PM

Takeout

Monday:

11:00 AM - 11:00 PM

Tuesday:

11:00 AM - 11:00 PM

Wednesday:

11:00 AM - 11:00 PM

Thursday:

11:00 AM - 11:00 PM

Friday:

11:00 AM - 12:30 PM

Saturday:

11:00 AM - 12:30 PM

Sunday:

11:00 AM - 11:00 PM
Pino's is a staple in Park Slope for a lot of reasons. They have the best pizza in Brooklyn. They have the best service in Brooklyn and a variety of pasta dishes that will make your mouth water. You can basically order anything off their menu and be satisfied so order today and enjoy!